In Memory
Frank Orsini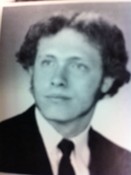 Francis J. (Frank) Orsini
;
ALTAMONT—Francis J. Orsini, a welcoming soul who carried on his family's traditions, died on Sunday, Sept. 28,2008. He was 55. Frank was pretty much the life of-the party, said Jeff Orsini, Mr. Orsini's younger brother. They grew up in a close family, Jeff Orsini said, and Frank was in the middle of a pack of two brothers and a sister. He graduated from high school in June of 1971.
His brother said Frank was a man who brought people together. In Virginia, Jeff met people who knew Frank and, again, in Florida he met people who knew his brother. The eldest brother, Jim Orsini met someone at a rest stop on the Mass Pike who knew Frank.

Frank had a way with plants as well as people his brother said. "He was very proud of his yard work and landscaping," he said.
For a while, Frank Orsini had a landscaping business, he said, but he worked most of his life as a heavy-equipment operator for the Albany County Highway Department in Knox.
With no children of his own, Frank was a devoted uncle: "[He] loved my kids and my sister's kids," Jeff Orsini said. He just liked to spend time with them, sometimes taking the kids to watch the airplanes come hi and fly away 'at the airport.